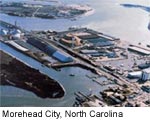 ATLANTIC SHIPPERS INCORPORATED Morehead City, North Carolina

Atlantic Shippers North Carolina terminal is located within the state port of Morehead City. The warehouse has a total of 63,000 square feet of inside flat storage. The facility includes a rail siding and on-site access to the Port's deep-water pier, truck and rail scales.

Atlantic Shippers has been handling bulk animal feed ingredients in Morehead City for over thirty years, and is equipped to accommodate the special handling needs of our customers. In addition to our storage and bagging services, Atlantic Shippers offers grinding, blending, turning and product treatment service.

Atlantic Shippers routinely ships and receives cargo via ship, barge, rail, and truck. The typical bulk unloading rate for a ship is 1,400 tons of animal feed per day on regular time, which is 7 AM to 7 PM Monday through Friday. The maximum draft alongside the dock is 45 feet.

Truck access is via Route 70 and rail service is provided by the Norfolk Southern Railroad.

The location and amenities of our Morehead City North Carolina facility provide our customer's with a flexibility and logistical advantage that is unmatched for importing animal feed ingredients. Atlantic Shippers is a wholly owned subsidiary of Animalfeeds International Coporation.




ATLANTIC SHIPPERS OF TEXAS, INC. Port Arthur, Texas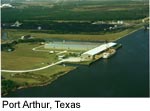 Our Port Arthur, Texas intermodal terminal is located on 27 acres along the Gulf of Mexico on the Sabine-Neches Canal (Mile 280 West). The facility features 160,000 square feet of warehouse space, private deep-water pier, barge slip, 80-ton crane, rail siding, loading dock; truck scale and separate enclosed storage for bagged product.

The warehouses in our Port Arthur, Texas facility consist of three interconnected buildings. Each warehouse has approximately 51,000 square feet of flat, open storage space. The dimensions of each warehouse are approximately 100 feet by 504 feet, with an inside height of approximately 20 feet.

The location and amenities provide our customers with a flexible and logistical advantage that is unlimited for importing and exporting animal feed ingredients. Atlantic Shippers of Texas Inc. is a wholly owned subsidiary of Animalfeeds International Corporation.